UPS - Shipping Method
UPS Shipping method
After configuring plugin settings to offer UPS services, add a new UPS shipping method.
After adding the method, UPS services will be displayed automatically on the checkout page together with live rates: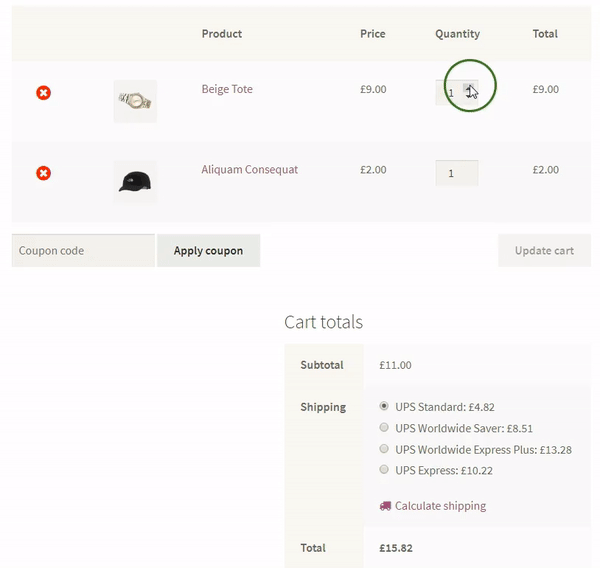 Go to WooCommerce shipping zone and add UPS as the new shipping method in the selected zone.
Method Title
The title of the method will be displayed to your clients if an emergency rate is applied. The title is also displayed in the list of methods in the shipping zone.
Access Points
Here you can choose whether you want to send packages to UPS Access Points. The list of collection points will be available on the order page, and the point chosen by the customer can be checked in the order edition.
In the PRO version of the plugin, a full list of collection points is available along with the point search engine on the order page. In the free version of the plugin, the order page shows one collection point nearest to the shipping address.
Available options:
Disable Access Points
All services and Access Points
Only Access Points
Access Points and Flat Rate
A flat rate for Access Points is a setting for stores that want to share pickup points but do not want to show live rates. Selecting this option hides all other settings and displays the flat rate field.
Fallback
Fallback cost will be applied if there are no UPS services available.
The services may be unavailable for the order parameters: weight, shipping address and receipt, but also due to incorrect data or no connection to the UPS API.
If fallback is applied to the WooCommerce order, the reason for the application will appear.

Fallback cost will run if there are no UPS services available for shipping between your store address and the customer's address.
You can check the available UPS services (and their cost) for the given destination and destination addresses on the UPS page: Calculate time and cost.
Free shipping
Tick the Enable the free shipping over amount checkbox in order to offer your customers the free shipping once the defined order total value threshold is reached. If selected the additional Free Shipping Amount field will appear below:
UPS Services
By default, the store customer will be presented with all available UPS services based on order data. You can limit the list of services by selecting a selected one. You can also change the standard service names and change the order in which they appear.
The selected services will be displayed only if they are available for selected order parameters: weight and addresses.
Negotiated Rates
Enable this option if you want to offer customers rates that include discounts from your contract with UPS.
Insurance
If you want to include shipment insurance in the shipment amount, check this option. The insurance will be included only for services where the insurance option is available.
PRO Pickup Type
This option allows you to set pickup type of your shipping. It may effect the live rates.
Available pickup types:
Daily Pickup,
Customer Counter,
One Time Pickup,
Air Call,
Letter Center,
Air Service Center.
PRO Destination Address Type
If UPS API won't be able to validate recipient's address, you can select the type of address for which the rate will be calculated.
PRO fixed and percentage fees
This option allows you to add a commission or rebate to rates collected from UPS. The setting is global, which means that commissions will apply to all bids on the order page.
Possible ways to calculate fees:
PRO Parcel packing method
Possible options to choose from:
Pack into one box by weight - this is the default method for calculating bids. The functionality supports matching products to UPS packages that returns API (possible to check on UPS site).
Pack items separately - each product is a separate box in one shipping.
Pack into custom boxes - allows you to choose which packages you want to use. You can choose one of standard UPS package or set your own custom box. It also allows you to set box weight and padding, that will be deducted from max weight and dimensions of the package. The products in the basket will be adjusted in order from the smallest to the largest to the selected package types. If a product exceeds the size of the package, the plug will return the fallback if it has been set.
Parcel Packing Method - Pack into custom boxes - how the fitting algorithm works
If you chose the Parcel Packing Method: Pack into custom boxes option our UPS PRO plugin will automatically optimize the packing method using the most accurate boxes setup to offer the lowest shipping cost. To make it clear let's have a look how the fitting algorithm works. Let's assume you have defined 3 custom boxes' types:
The fitting algorithm in such case will look like this:
[ 1, 1, 1, '1' ], // 1 items 1 square = best fit is 1x1x1

[ 2, 1, 1, '2' ], // 1 items 2 square = best fit is 2x2x2

[ 4, 1, 1, '5' ], // 1 items 4 square = best fit is 5x5x5

[ 5, 1, 1, '5' ], // 1 items 5 square = best fit is 5x5x5

[ 0.5, 8, 1, '1' ], // 8 items 0.125 square = best fit is 1x1x1

[ 0.5, 9, 1, '2' ], // 9 items 0.125 square = best fit is 2x2x2

[ 1, 8, 1, '2' ], // 8 items 1 square = best fit is 2x2x2

[ 1, 9, 1, '5' ], // 9 items 1 square = best fit is 5x5x5 (other algorithm could get 2x2x2 + 1x1x1)

[ 1, 125, 1, '5' ], // 125 items 1 square = best fit is 5x5x5

[ 1, 126, 2, '5' ], // 126 items 1 square = best fit is 5x5x5 + 1x1x1 (two packages, exactly one is 5x5x5)

[ 1, 133, 2, '5' ], // 133 items 1 square = best fit is 5x5x5 + 2x2x2 (two packages, exactly one is 5x5x5)
So it will match the best setup to fit as much products as possible into one box based on the products dimensions.
PRO Estimated delivery
The option allows you to download from the API the estimated delivery date and display it as a description of the shipping method on the order page.
In order to calculate and display the estimated delivery date properly our UPS PRO plugin needs to know the shop's exact location so it should be filled at WooCommerce → Settings → General → Store Address or in the UPS settings (WooCommerce → Settings → Shipping → UPS → Origin Settings → Custom Origin).
Display options:
Show estimated time in transit
Show estimated delivery date
Additional options:
Maximum Time in Transit - define the maximum number of days that goods can be in transit. Specially useful for perishable goods.
Lead Time - define how many days are required to prepare an order for shipment. The delivery date or time will be updated for the selected number of days.
Cutoff Time - define on what time you stop preparing orders. It can be used only when Lead Time is set as 0.
Still wondering if the plugin will meet your needs?