FedEx - General Settings
You can find the plugin settings choosing the WooCommerce → Settings → Shipping → FedEx from the sidebar.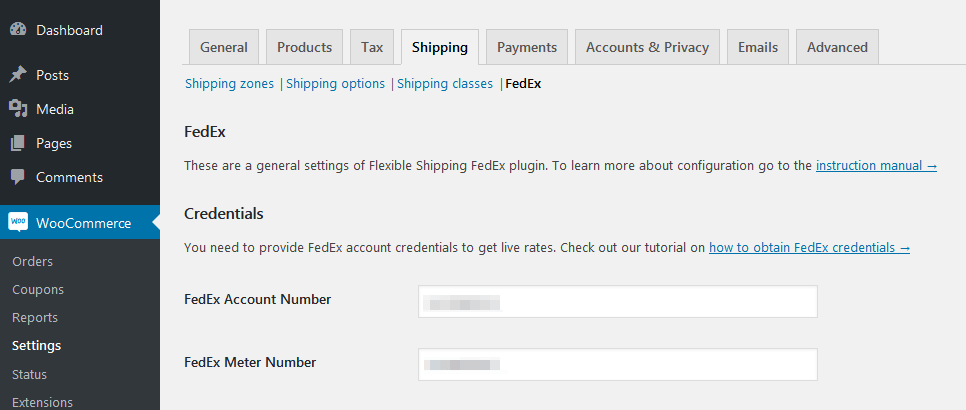 Credentials
In order to offer your customers the available FedEx shipping services based on the order details, you will need to create a FedEx account first and fill the fields below with the credentials acquired during the registration process.
It is required to establish the connection with the FedEx shipping system and make the plugin work. If you have not created a FedEx account yet, check how to obtain FedEx credentials →.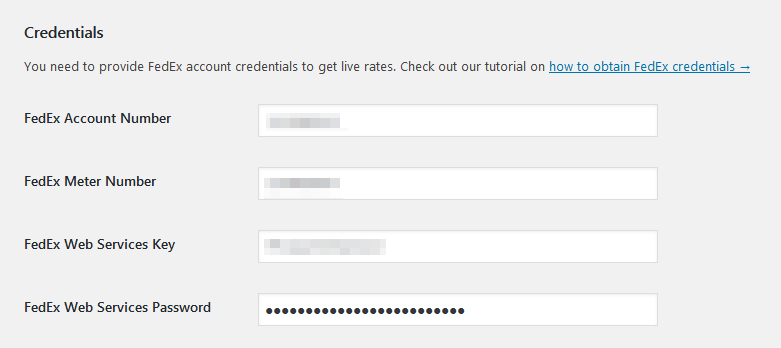 If you want to use credentials from the test FedEx account, add the following filter to your functions.php file: add_filter('flexible_shipping_fedex_testing','__return_true');
API Status
After you enter your login credentials and Save changes, the API Status should change to OK.
If the plugin is not able to connect to the FedEx's API, you will see a specific error message.
In this case, check your login credentials. If they are entered correctly, and you still get error, please contact FedEx support.
Method Settings
Method Enable - check this option to turn on the FedEx shipping method, make its Live Rates to be visible in your shop and available to choose by your customers.
FedEx WooCommerce Live Rates PRO offers global shipping method. When you enable the method, it will be available for all Shipping Zones. It can't be limited to certain Shipping Zones.
Method Title - set method title that will be displayed in the checkout page when fallback will be enabled.
Fallback - tick this checkbox to enable the flat rate fallback cost if the FedEx API response won't return any services available. The FedEx services may be unavailable for several reasons e.g. missing or incorrect order data (weight, sender's / recipient's addresses) but also the FedEx API connection issues. After the checkbox is ticked the following Fallback Cost field will appear:
Custom Services - tick this checkbox if you want to manage which FedEx services should be available for your customers to choose from. You may also change their names here and set the order how they are displayed at the checkout.
If the checkbox is not selected all the services will be available by default.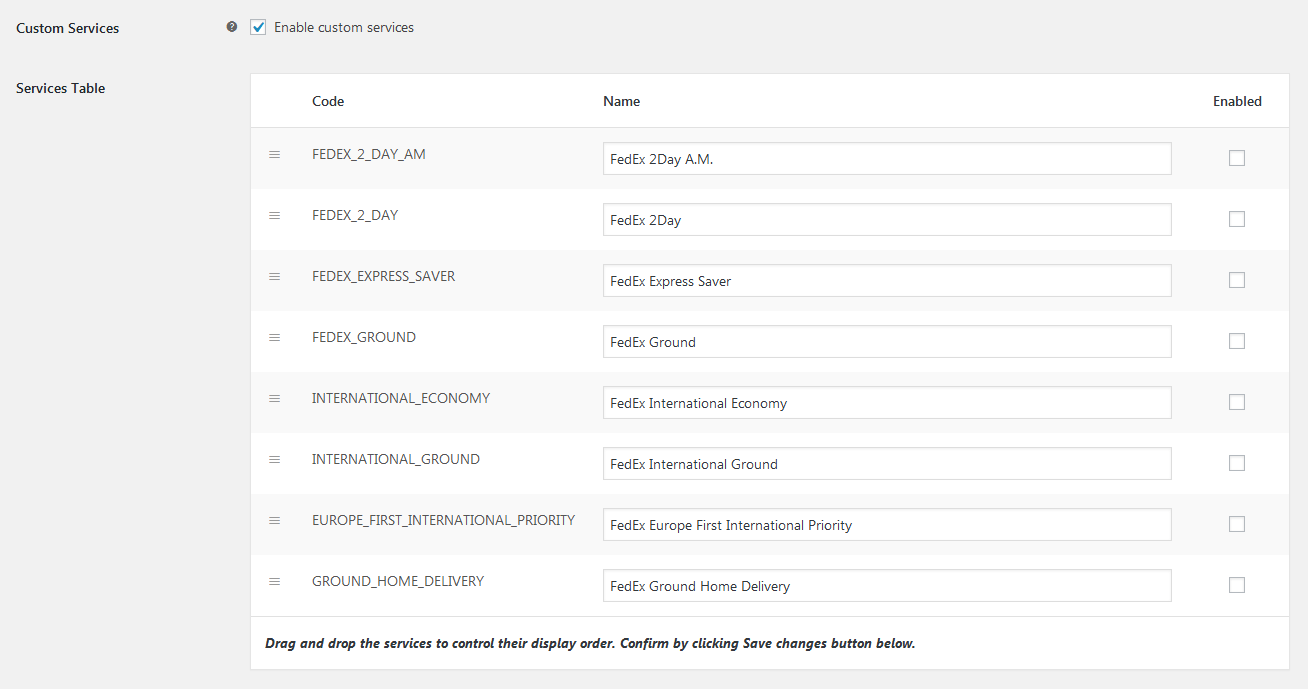 Ground Home Delivery service is the equivalent of the FedEx Ground service for Residential address type. If you want to offer FedEx Ground service, change your Destination Address Type to Business. FedEx Home Delivery is available only in the USA.
PRO Custom Origin
By default, the plugin gets the origin from the WooCommerce settings. You can change this address using a dedicated option.
Rates Adjustments
Insurance - If you want to include shipment insurance in the shipment amount, check this option. The insurance will be included only for services where the insurance option is available.
Rate Type - define which rates type should be used choosing from All possible rates (default), List rates or Account rates.
In order to obtain the Account rates on your FedEx account please contact FedEx support to activate them first.
If you already have the Account rates assigned and activated on your FedEx user account but want to display the standard ones (List rates) to your customers, please choose the Rate Type: All possible rates option.
PRO Rate Currency
Select this option if you sell in other currency then it is set on your FedEx account. FedEx account's currency is used by default.
PRO Handling Fees
This option allows you to add a commission or rebate to rates collected from FedEx. The setting is global, which means that commissions will apply to all bids on the order page. To add a rebate just enter negative value.
Possible ways to calculate fees:
Destination Address Type - choose which type of destination address - Business or Residential should be used by default.
Please mind that our plugins uses the domestic FedEx Ground Home Delivery services.Mind that not every service visible here may be available to pick by the customer every time depending on the package weight, origin and destination.
PRO Parcel packing method
Possible options to choose from:
Pack into one box by weight - this is the default method for calculating bids. The functionality supports matching products to FedEx packages that returns API.
Pack items separately - each product is a separate box in one shipping.
Pack into custom boxes - allows you to choose which packages you want to use. You can choose one of standard FedEx package or set your own custom box. It also allows you to set box weight and padding, that will be deducted from max weight and dimensions of the package. The products in the basket will be adjusted in order from the smallest to the largest to the selected package types. If a product exceeds the size of the package, the plug will return the fallback if it has been set.
PRO Estimated delivery
The option allows you to download from the API the estimated delivery date and display it as a description of the shipping method on the order page.
Display options:
Show estimated time in transit.
Show estimated delivery date.
Additional options:
Maximum Time in Transit - define the maximum number of days that goods can be in transit. Specially useful for perishable goods.
Lead Time - define how many days are required to prepare an order for shipment. The delivery date or time will be updated for the selected number of days.
Cutoff Time - define on what time you stop preparing orders. It can be used only when Lead Time is set as 0.
Advanced Options
Debug Mode - Enabling the Debug Mode will let you identify and analyse the problems with FedEx services price calculation. After turning it on, all the requests, responses and the error messages coming back from the FedEx API will be displayed in the cart and on the order summary page.
All the notices and data generated by enabling the Debug Mode will be visible only for the Site Administrators and Shop Managers. Your customers, no matter if they are guests or they are logged in, won't see any unnecessary info in the shop's frontend.
Measurement Units - This option allows you to change measurement units for live rates. By default the plugin uses store's settings. If you switch units, they will be converted to units required by FedEx.
Use this option if you get "This measurement system is not valid for the selected country" error.